UNIQUE HANDCRAFTED MOSES BASKETS FOR YOUR NEWBORN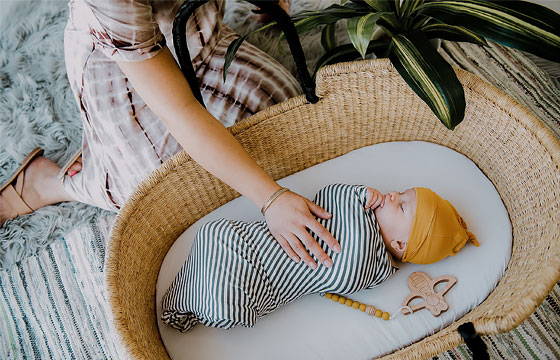 The artistry and craftsmanship found in our Moses baskets come from the Bolgatanga region on Ghana's upper eastside. We work with weavers who are all members of a community, ensuring they receive fair wages for their products while utilizing natural materials without harmful chemicals or sweatshop labor practices. Each Moses basket is woven using durable and malleable grass known as "Elephant Grass". It is lightweight yet extremely strong.
Moses baskets are a source of comfort and security for newborns. Parents, on the other hand, find them to be extremely handy. They can simply relocate it from one area to the next. This guarantees that their baby is always within reach if he or she requires attention. This is especially useful for parents who require rest during the night. According to research, moms sleep better when their babies are in close proximity.

Moses baskets have a lightweight construction which can be extremely helpful when quickly needing to move from one point to another. Please Note: "Never" carry or move a Moses basket while a baby is inside.

Moses Baskets are easy to clean and wash down due to the water absorption and malleable nature of the elephant grass. Using a soft bristle brush one can easily scrub down a basket and allow it to dry outside.

The basket is multi-functional and great for storing all your baby's belongings once they outgrow it. You can use it to store towels, toys, blankets, and even diapers while maintaining a chic look.
The safety of your child is always our top priority. To help prevent falls, please note that a Moses Basket is a safe place for a "monitored baby" to sleep in until 6 months old OR 20lbs. (9.1 kg) OR when a baby can push up, rollover, or crawl – WHICHEVER LIMIT COMES FIRST. To see a full list of "Moses Basket" safety guidelines, please click the below link.
Our Black & Pine-designed stands are a wonderful match for your Moses basket, allowing you to access your baby while maintaining a safe and comfortable nighttime readjustment. Our stands are made of a hardwood frame and feature a unique middle three-bar reinforcement that works in tandem with our Moses baskets to ensure maximum stability/security while storing your Moses basket.
SHAPING YOUR MOSES BASKET

If your Moses basket appears deformed or misshapen after receiving it, don't worry; this is entirely normal. Every effort is made to mold all of our Moses baskets before they are sent out, but transit times may cause your basket to arrive somewhat deformed. Fixing this is simple since the baskets are quite flexible. Soak affected regions in a tub/sink full of hot water and gently shape them with your hands. Allow 24 hours to dry in direct sunlight.